Episode 028 – What is the #1 Paradox When Parenting God's Way?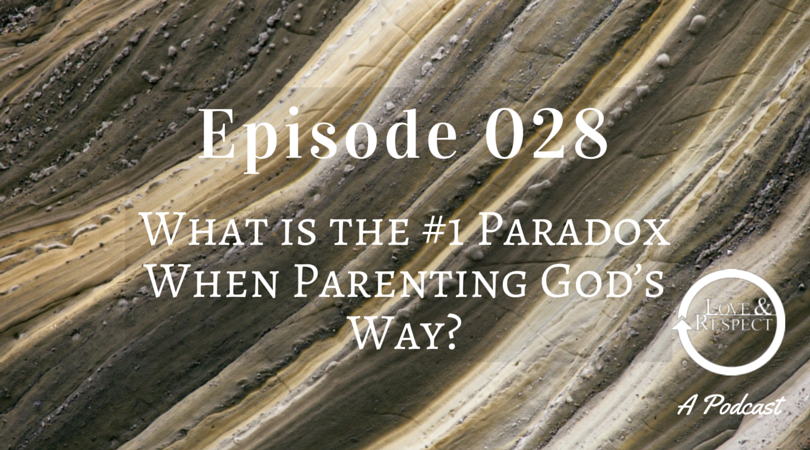 Parenting is for adults only because it's difficult. A sense of self-worth as a parent is often based on a child's performance or how they turn out, but this is not healthy. This week, Emerson and Jonathan discuss the #1 paradox in parenting and give hope to many parents.  
Timestamps
01:15—Emerson discusses what you will—and will not—hear at any of the four Love & Respect Live Conferences coming in February.
05:20—A brief recap last week's episode, because everyone needs a review now and again.
09:40—Why did Emerson wait until now to write and speak about parenting?
11:50—The key to parenting has nothing to do with the kids.
13:07—The story of the father of the prodigal son should ultimately give you hope.
16:24—This is not a sanction for bad parenting.
18:06—What unconditional love looks like when it comes to parenting, especially with a difficult child.
19:49—The thing that will cause a parent to feel defeated and give up.
22:57—Don't be fooled by this common cultural conclusion.
24:46—Love & Respect in the Family unpacks this even more.
25:38—God is going to be loving whether we are loving or not.
27:00—Jonathan speaks to the parents who are really struggling.
28:32—Assuming you know a child's future based on their behavior today.
30:52—What's the good news in all this?
33:00—The best way to impact the spirit of your child.
34:18—How is this message impacting parents?
36:44—Jonathan clarifies the Relationship Challenge for this week.
Love & Respect Resources
Dig deeper into Emerson's parenting message in the book, Love & Respect in the Family.
Join Emerson and Sarah at a Live Marriage or Parenting Conference this February.
Be in the know. Download the FREE Love and Respect App for your mobile device.
Thank you for leaving us a positive review on iTunes and Stitcher!
We're nearing 1,000,000 people in our social media community. Join the conversation on Facebook, Twitter, Instagram, and Google+.
Email us with your stories of hope, change and short questions at podcast@loveandrespect.com.