Episode 029 – What is the Difference Between Healthy Self-Love and Carnal Self-Love?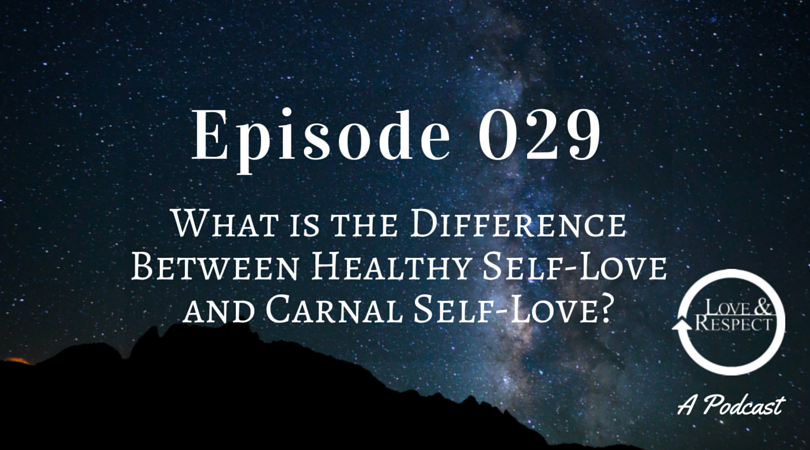 In this week's episode, Emerson and Jonathan discuss the love of self from a societal and biblical perspective. There are unhealthy and healthy ways to experience self-love, and how we view God's love of us is immensely important. Finally, in marriage, our view of God's love and our love of self can positively and negatively impact the way we treat our spouse. 
Timestamps
01:00—A special Valentine's Day gift idea for your spouse.
02:33—Emerson gives a quick review of last week's episode.
05:22—What burdens you as a parent? Give us your answers here.
06:12—Who on earth hasn't heard about self-esteem?
08:45—Emerson sets the stage for the self-esteem movement.
10:03—If everyone wins a gold ribbon, what's the point?
12:21—The emotional and psychological effects of self-love in a marriage.
14:41—The fluidity of inferiority.
15:55—Jonathan observes the downward spiral for both men and women.
18:09—The question everyone needs to ask.
20:10—Leaning into your temperament—God speaks to the melancholy.
23:04—Godly self-love resists temptation.
25:43—Can self-love get out of control?
28:03—Coming to grips with God's love for you.
34:49—The Relationship Challenge for the week.
Love & Respect Resources
Join Emerson and Sarah at a Live Marriage or Parenting Conference this February.
Download the FREE Love and Respect App for your mobile device. New stuff added everyday!
Subscribe to this podcast and leave a positive review on iTunes and Stitcher!
Become one in a million. Join the conversation on Facebook, Twitter, Instagram, and Google+.
Email us with your stories of hope, change and short questions at podcast@loveandrespect.com.
Additional Resources
Lincoln's Melancholy: How Depression Challenged a President and Fueled His Greatness, by Joshua Wolf Shenk.