Episode 032 – The Impact of Seeking A Child's Forgiveness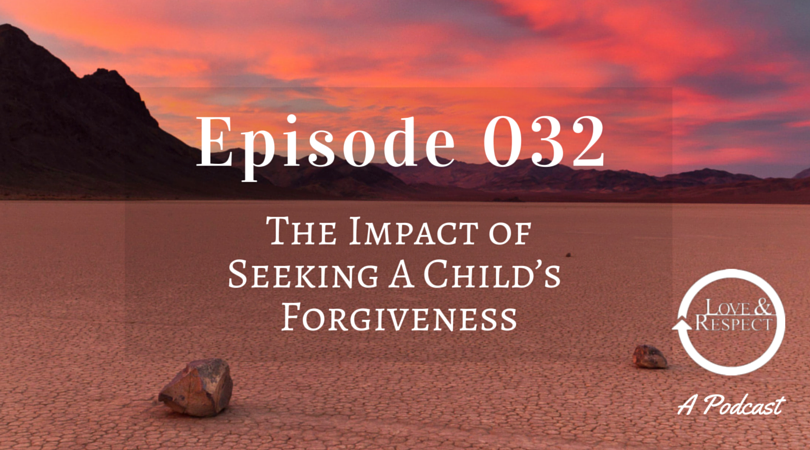 Following a blog post written by Sarah Eggerichs on the topic of parenting, Emerson and Jonathan discuss forgiveness in the context of the parental relationship and what impact it has on children. 
Timestamps
01:15—Emerson goes back to last week's episode and gives a brief overview.
05:13—The blog post that inspired the topic in today's episode.
09:07—Why is it so hard to seek forgiveness, especially with our kids?
10:20—The many levels of forgiveness.
12:25—Sarah Eggerichs shares her story of forgiveness with her mother.
14:11—Children are little people with real feelings.
18:24—The legacy of saying "I was wrong."
20:01—There's more than one aspect to seeking forgiveness.
23:20—Sarah gives language to the process.
24:34—Forgiveness doesn't absolve wrongdoing.
26:00—An important note about parental authority.
29:23—What legacy are you leaving for your kids and grandkids?
Love & Respect Resources
For more on the topic of forgiveness in parenting, grab a copy of Love & Respect in the Family from our online store. Maybe pick up a few copies to share with a friend or two (or 20).
Join Emerson and Sarah at the Love and Respect Live Parenting Conference in Yorba Linda, CA (in the Los Angeles area) on February 27-28. Tickets are still available—REGISTER HERE!
Download the FREE Love and Respect App for your mobile device. New content added everyday!
Subscribe to this podcast and leave a positive review on iTunes and Stitcher!
Become one in (almost) a million. Join the conversation on Facebook, Twitter, Instagram, and Google+.
Email us your questions for the show at podcast@loveandrespect.com.