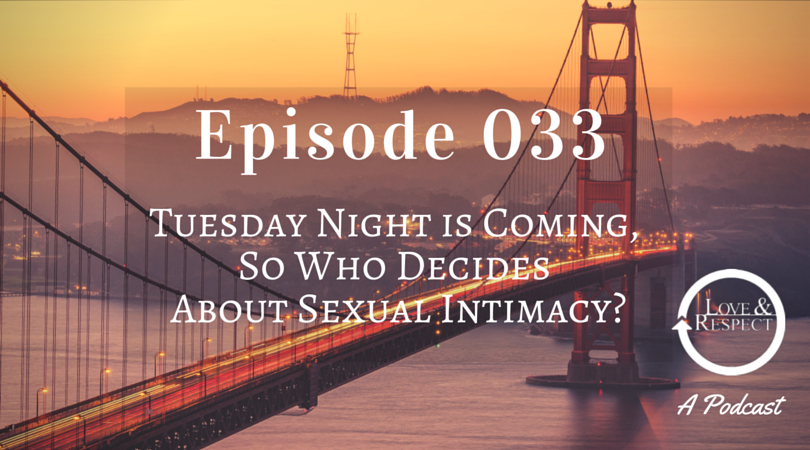 "But if you should marry…such will have trouble in this life…" (1 Corinthians 7:28). Scripture teaches there will be trouble in marriage.Get ready for it!
In this week's episode, Emerson and Jonathan discuss preferences and needs around the issue of sexual intimacy in the context of marriage.
Timestamps
00:47—Bathing suits and wool hats.
02:19—Reviewing last week's episode and the impact of seeking a child's forgiveness.
05:12—Tuesday night is coming—a personal and biblical perspective.
09:40—My way or your way? The answer is yes.
11:10—Keeping one night from becoming one month…or one year.
13:13—More than just a sexual need.
16:14—The teeter-totter of marriage.
17:20—This is the critical point that will destroy your relationship.
18:44—Mutual submission—you may not always get your way.
21:10—Will God help you on Tuesday night?
22:14—Creating a yes-yes situation.
25:33—Forsaking prayer and wise counsel.
29:33—There may be tension, but have you made a mistake?
32:04—The Relationship Challenge.
Love & Respect Resources
For more information and additional products, visit the Love and Respect online store.
Download the FREE Love and Respect App for your mobile device. New content added everyday!
Subscribe to this podcast and leave a positive review on iTunes and Stitcher!
We're close to reaching 1 million Facebook likes. Share the Love and Respect page with a friend (or all of them) and invite them to join the conversation! Find us on Twitter, Instagram and Google+, too!
Email us your questions for the show at podcast@loveandrespect.com.