Episode 035 – Who Do You Feel Is Responsible For the Success of Your Marriage?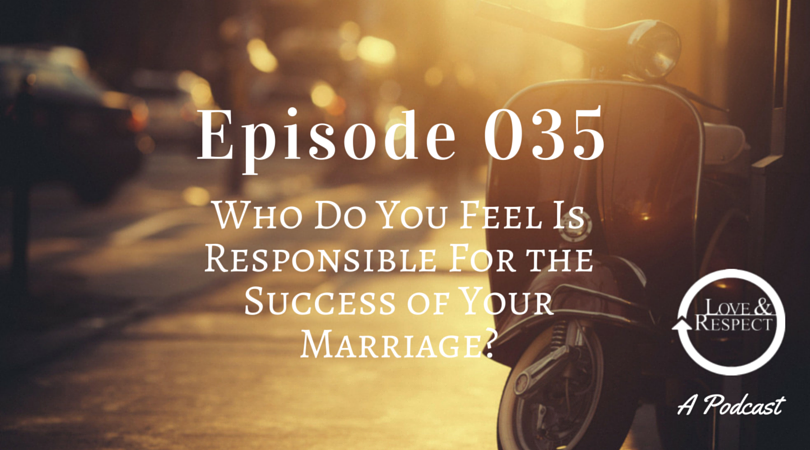 Emerson and Jonathan discuss responsibility inside of marriage, including the notion that some of us hold others responsible for our happiness and ultimately the success or failure of our marriage. 
Timestamps
01:08—Emerson tries to review last week's episode in under two minutes.
04:59—The downside to making someone else responsible for the success of YOUR marriage.
06:45—"This is our last resort."
07:50—Your counselor can't save your marriage.
12:05—Every human being has a propensity to be biased in his/her own favor.
16:50—Jonathan talks about the problem of blaming your spouse for your troubled marriage.
18:10—Who you are vs. what you do.
20:13—If only they would change…
21:17—When a couple goes to a counselor with guns a-blazin.'
23:09—Moving toward what we need to hear, instead of what we want to hear.
24:50—Beware of the secret agenda.
28:50—A series of questions to ask about your marriage…from "your older brother."
34:20—Maybe you're not seeing a counselor, so what?
35:21—Emerson's final challenge.
36:20—Special announcement from Jonathan and Emerson.
Love & Respect Resources
New digital products have been added to the Love and Respect online store. Check them out HERE!
Emerson has a special message for our social media community of over ONE MILLION people! Watch the video and join the conversation. You can find us on Twitter, Instagram and Google+, too!
Subscribe to this podcast and leave another 5-star review on iTunes and Stitcher!
Don't forget to download the Love and Respect App for your mobile device and share it with a friend.
Email us your questions for the show at podcast@loveandrespect.com.