Episode 037 – Is There An Upside to Erupting in Anger?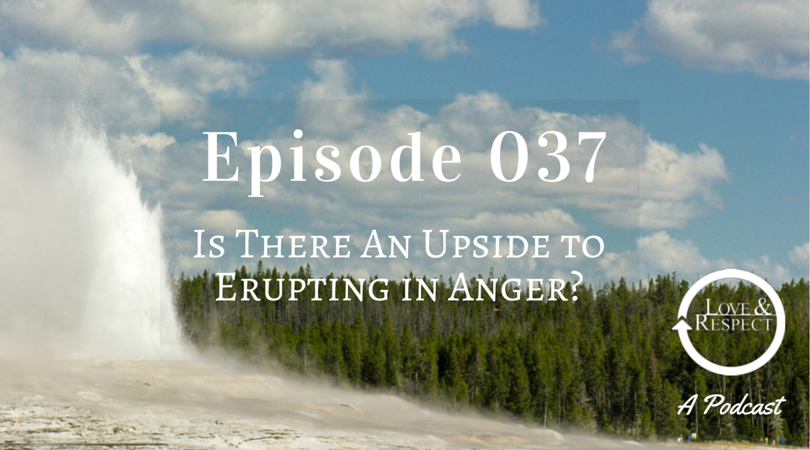 How angry can we get and for what reasons? In this week's episode, Emerson and Jonathan discuss the consequences of anger within relationships, both inside and outside of the home. Anger is a part of being human, but when used in eruptive ways, it can be very damaging. It can affect the inward, the outward, and the upward. Listen to learn what this means.
Timestamps
01:23—Check out the latest release of digital products in the Love and Respect online store: Communication 101: Married & Pre-Married Edition!
05:00—Emerson reviews last week's episode about prayer in your marriage.
08:33—Letter from a listener: "Each episode is an anchor tethering my sanity to my head sometimes."
10:34—The trigger for today's episode, so to speak.
13:18—Angry people don't often see the anger in themselves.
14:29—Where will you draw the line?
17:24—Who you are in the home is who you are.
19:15—Righteous indignation vs. explosive anger.
23:05—Are you really ___________ or are you just out of control?
23:49—The Outward, inward, and upward.
24:30—But I say I'm sorry, Emerson!
25:01—What about "deeds appropriate to repentance?"
25:48—The calm after the storm is misleading.
28:09—The 4 questions to ask yourself.
29:21—The consequences of being out of control.
30:42– Observed behavior changes.
33:00—Emerson offers encouragement and a challenge for you.
35:06—A word of caution about sharing this podcast with an angry person.
Love & Respect Resources
New, budget-friendly digital products written by Emerson, as well as his daughter, Joy, have been added to Love and Respect online store. Check them out HERE!
Join the conversation. Follow us on Facebook,  Twitter, Instagram and Google+.
Subscribe to this podcast and leave a 5-star review on iTunes and Stitcher!
Email us your questions for the show at podcast@loveandrespect.com.