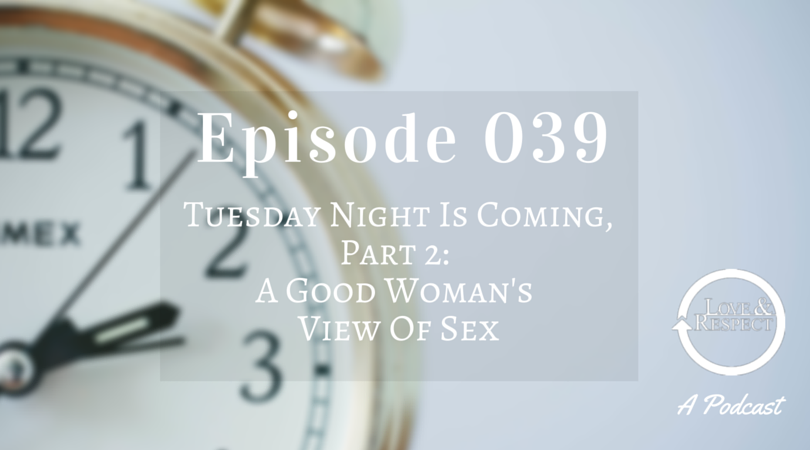 As a sequel to a very popular podcast, "Tuesday Night Is Coming," Emerson and Jonathan discuss a powerful and insightful email from a woman who details the way many wives feel about sex in relationship to their husband. Both husbands and wives will appreciate this episode.
Timestamps
01:22 – A quick review of last week's podcast.
05:08 – Special announcements!
08: 22 – Letter from a listener: "For two years, I thought I was never allowed to say no."
09:27 – She's initiating, but his response is cold, so what is going on?
11:10 – Nothing you do is wasted.
12:59 – Letter continued: "Neither of us is wrong."
13:15 – Avoid judgment. He's not wrong for saying yes, and she's not wrong for saying no.
14:17 – Letter continued: "My husband lost my heart."
15:35 – Husbands, hear this podcast as a challenge for you.
16:04 – Don't listen to Hollywood—these are the real things that turn on your wife.
18:34 – The silent treatment alternative.
21:03 – If you can approach this differently, she will be responsive to you.
22:22 – The fine line between using sexual and non-sexual words.
25:19 – Letter continued: "Honoring one another no matter what…seems so simple, but it's the hardest thing to do."
26:21 – Your approach matters!
27:48 – For men, it's not about the lovey-dovey stuff, it's about the respect language.
28:24 – The power of being open, vulnerable, and coaching each other.
29:57 – The way to reach the heart of your wife sexually is by doing non-sexual things.
31:14 – The Relationship Challenge One-Liner.
Love and Respect Resources
Have you downloaded the new Love and Respect App yet? It's now available for iOS, Android, Windows, and Kindle! Get it HERE.
Need a quick, budget-friendly study for your small group or just for you? Check out our growing collection of digital products written by Emerson and his daughter, Joy, in the Love and Respect online store!
Join our community! Follow us on Facebook, Twitter, Instagram and Google+.
Subscribe and leave a review of the Love and Respect Podcast on iTunes and Stitcher!
Have a question for us? Email the show at podcast@loveandrespect.com.