Episode 041 – Three Ways To Murder Your Marriage – Part 2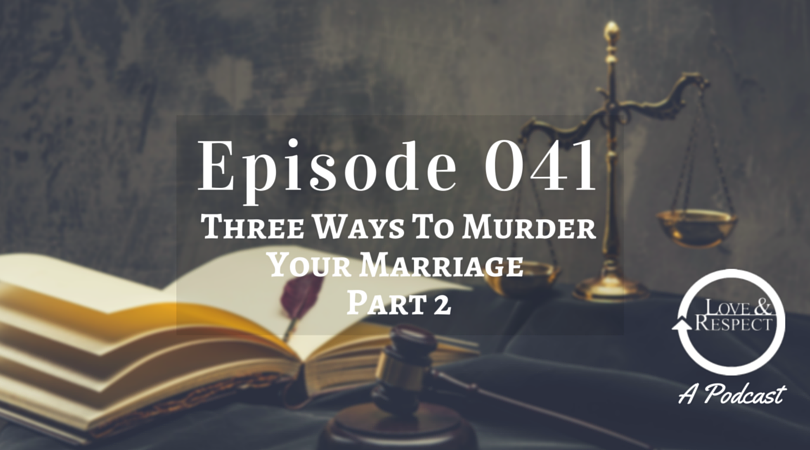 In Part 2 of this 2-part series, Emerson and Jonathan continue their discussion about the motive, means, and opportunities people use to justify killing their marriage, while forgetting the ways by which to resurrect it. While acknowledging there are justified, biblical reasons for divorce, as well as terrible and difficult situations requiring local, direct, and wise counsel, Emerson and Jonathan take a look at what a couple can do to keep from murdering their marriage.
Timestamps
02:02 – Last week's Relationship Challenge reminder.
04:50 – Are these biblical parameters for marriage and divorce too heavy-handed for today's modern culture?
09:40 – Trickery and betrayal turned to justification for murder.
10:51 – What about abuse in the marriage?
16:40 – Hijacking the word "abuse."
19:10 – The relationship you have with your spouse matters to God.
20:59 – How to murder your marriage: motives.
22:24 – How to murder your marriage: means.
25:54 – How to murder your marriage: opportunity.
28:10 – How to resurrect your marriage with Christ-centered motives, means, and opportunities.
29:00 – Emerson's Relationship Challenge for the week.
Love and Respect Resources
The Love & Respect book has made the New York Times Bestsellers List again for April! Pick up a copy for you and a friend HERE.
Have you downloaded the new Love and Respect App yet? It's now available for iOS, Android, Windows, and Kindle! Get it HERE.
Join our social media community! Follow us on Facebook,  Twitter, Instagram and Google+.
Have a question for us? Email the show at podcast@loveandrespect.com.