Episode 045 – Who Makes the Final Decision When You Are Stalemated?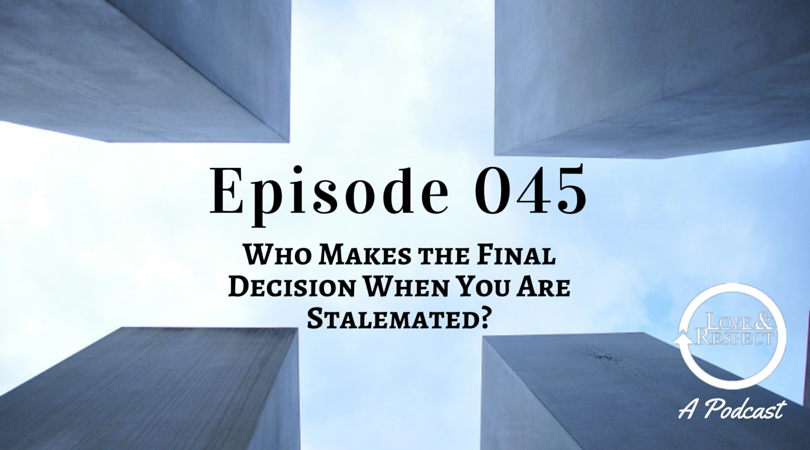 Have you ever had a difficult time making a decision–either alone or with another person? In this week's episode, Emerson and Jonathan discuss what to do when you and your spouse are in a stalemate or gridlocked on an issue. Drawing upon the Bible as well as the world of business and sports, you will be sure to find something useful in this episode about decision-making inside of marriage. 
Timestamps
01:00 – Did you catch last week's episode of the podcast? Listen here.
01:25 – Emerson has received this question over and over throughout the years.
05:10 – Steps to get over a stalemate in your marital decision-making.
06:15 – First things first: pray about it. Then what?
07:05 – The stalemate may have a greater purpose of revealing something deeper.
08:50 – Why do we so often not go to prayer first?
09:44 – This one act alone can eliminate many of your troubling situations.
12:09 – When you still find yourselves stuck, what do you do?
14:40 – There are gray areas in which both of you can be right.
17:26 – Emerson discusses spiritual leadership in the home.  
21:36 – As in business, good partnerships recognize the need for third-party intervention.
26:41 – What it looks like to defer to the other in good faith.
30:00 – It's okay to relax and let it go, even if you don't get your way.
31:34 – You don't have to end your marriage over this. Emerson discusses why.
Love and Respect Resources
Subscribe and leave us a review on iTunes and Stitcher!
Get the Love and Respect App—available now on iOS, Android, Windows, and Kindle!
Follow us on Facebook, Twitter, Instagram and  Google+.
Have a question for us? Email the show at podcast@loveandrespect.com.