Episode 047 – My Love is Behind My Disrespect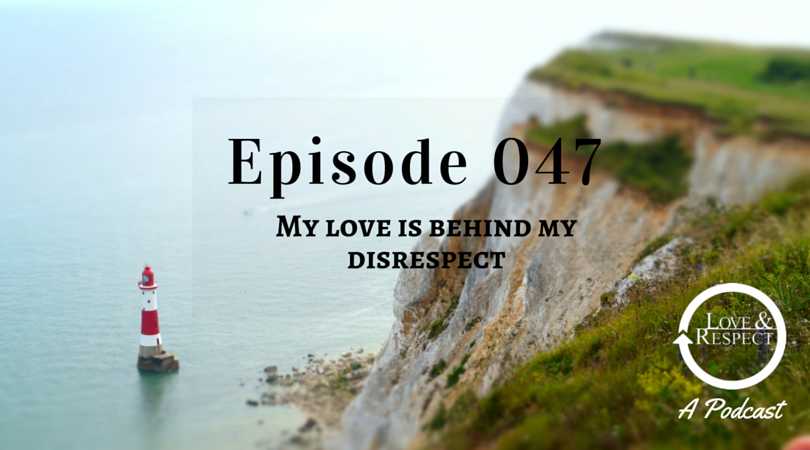 This week Emerson and Jonathan discuss a recent inquiry that Emerson received from a wife saying, "My love is behind my disrespect." What she is essentially saying is, because the intent is good, the means are justified, especially since it seems to work with her husband. Emerson and Jonathan respond in this week's episode.
Timestamps
00:57 – Before you listen, you should understand our approach.
02:04 – Letter from a listener: "Because I care, I get disrespectful."
03:24 – Emerson addresses the insufficiency of good intentions and motives.
06:12 – Why it's impossible to argue that love motivates disrespect.
08:12 – Jonathan discusses why ambivalence is crucial to change.
10:34 – Your disrespect isn't working the way you think it is.
13:05 – Is respect earned or unconditional?   
15:55 – Emerson and Jonathan discuss the power of a respectful approach.
19:41 – How to recognize what's going on between you and your spouse.
22:16 – This applies to parenting, too.
24:48 – Why your past approach is not ultimately effective.
28:23 – Emerson offers a challenging word to the cynic.
Love and Respect Resources
The new website is coming! Sign up here to get the inside scoop.
Attending a wedding this summer? Give the newlyweds a gift that will last a lifetime without breaking the bank.
Subscribe and leave us a review on iTunes and Stitcher!
Get the Love and Respect App—available now on iOS, Android, Windows, and Kindle!
Follow us on Facebook, Twitter, Instagram and Google+.
Have a question for us? Email the show at podcast@loveandrespect.com.