Episode 048 – What Does Winning The Lottery Have To Do With Marriage And Heaven? Part 1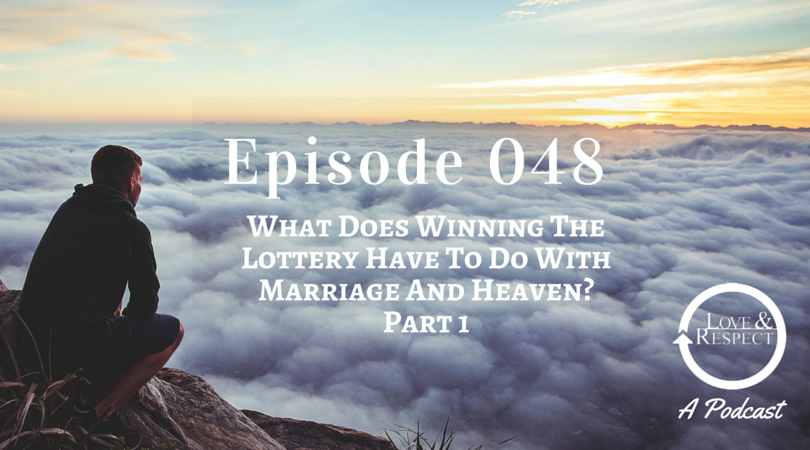 In this week's episode, Emerson and Jonathan discuss specific Scriptures about heaven, future rewards, and why it is that what we do in this life matters more than we may realize. Whether in marriage, parenting, or relationships in general, this message is sure to enrich and empower as one understands that nothing is wasted when we do things unto Christ. 
Timestamps
00:59—Will you leave us a review?
02:46 – Emerson asks a question, "Are you experiencing troubling moments?"
04:00 – Jonathan and Emerson talk about that feeling you get when you win something and this commercial.
08:11 – What kind of future do you hope for?
12:23 – Earthly incentives vs. heavenly rewards.
14:18 – Emerson discusses the purpose of your momentary afflictions.
18:54 – This is the Rewarded Cycle.
22:40 – Heaven is a free gift, but what about your "full reward?"
24:19 – Is it wrong to see your reward as an incentive for your behavior?
27:43 – Heavenly minded vs. earthly good.
28:30 – Jonathan discusses how this mindset can radically change your life and marriage.
29:44 – If you feel like your marriage is wallowing in the mud and mire, remember this.
Love and Respect Resources
The new Love and Respect website is coming! Sign up here to get the inside scoop.
Attending a wedding this summer? Give the newlyweds a gift that will last a lifetime without breaking the bank.
Subscribe and leave us a review on iTunes and Stitcher!
Get the Love and Respect App—available now on iOS, Android, Windows, and Kindle!
Follow us on Facebook, Twitter, Instagram and Google+.
Have a question for us? Email the show at podcast@loveandrespect.com.