Episode 049 – A Righteous Father Falls Seven Times, And Rises Again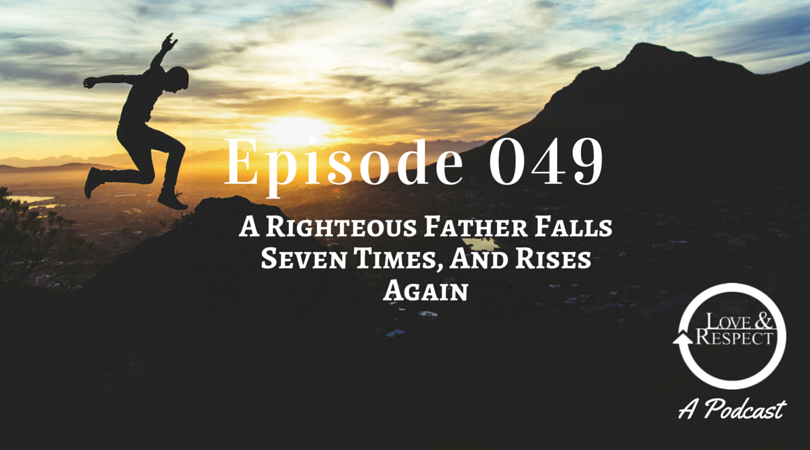 In this Father's Day message, Emerson and Jonathan encourage fathers to focus on Proverbs 24:16 which says, "A righteous man falls seven times, and rises again." There is hope. Failings are not final. You can begin again.
Timestamps
01:45 – Have you seen the new digital products in our store?
07:30 – "Success is not final. Failure is not fatal…" –Winston Churchill
08:40 – Feeling like a failure as a father? You are not alone.
11:41 – When a righteous man falls, what then?
12:32 – Jonathan discusses the despair that parents can feel about their performance.
14:38 – Defiant vs. compliant children.
17:00 – Letter from a listener: "I lost it with my daughter over a trivial matter…but the Spirit spoke to me."
19:07 – You can move forward, but it's your choice.
20:22 – Why do some people refuse to be forgiven and choose self-loathing and hatred instead?
27:05 – First, get away by yourself (again) today because it has the potential to change your tomorrow.
28:26 – This is less about your inadequacy as a dad and more about your imitation of Christ.
29:09 – Parenting is not for cowards.
29:53 – Second, seek forgiveness because it's the right thing to do.
31:21 – Whatever you do, do not focus on your children's imperfections.
33:00 – Emerson and Jonathan talk about a father's legacy.
38:03 – Breaking the cycle in your family with forgiveness.
39:23 – Emerson clarifies his challenge for fathers.
Love and Respect Resources
What type of content is meaningful to you? We want your feedback! Email us at podcast@loveandrespect.com.
Need a unique gift for the newlyweds this summer? Looking for something special for your anniversary? Give a gift that will last a lifetime from the Love and Respect store.
Sign up as a VIP newsletter subscriber and be the first to know about the new Love and Respect website coming soon!
We have over 100 reviews on iTunes and Stitcher! Will you leave us another?
Never miss another post. Get the Love and Respect App—available now on iOS, Android, Windows, and Kindle!
Follow us on Facebook, Twitter, Instagram and Google+.