Episode 050 – What Does Winning The Lottery Have To Do With Marriage And Heaven? Part 2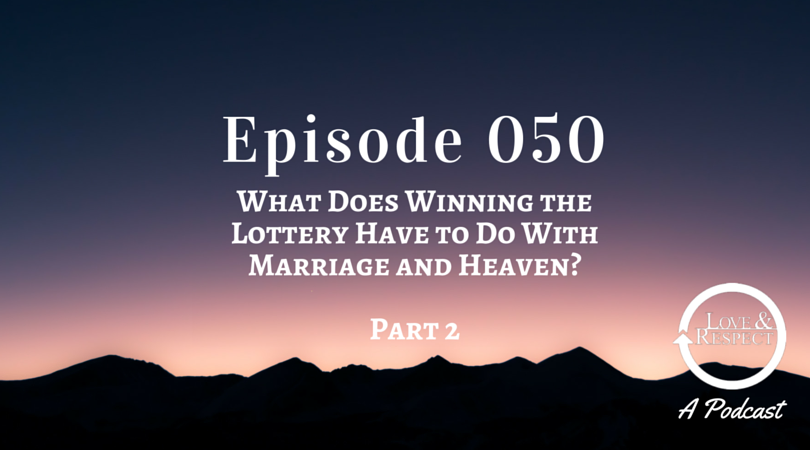 In Part 2 of What Does Winning The Lottery Have To Do With Marriage And Heaven?, Emerson and Jonathan continue the discussion about rewarded and unrewarded believers. While difficult concepts are discussed, salient scriptures are examined that pertain to why we do what we do as Christians when it comes to marriage, parenting, and beyond.
Timestamps
00:56 – Where did the idea of this podcast come from?
03:30 – Need that perfect wedding gift?
06:36 – The meaning of glory and how it relates to you and your marriage.
10:12 – Rewarded versus unrewarded believers.
14:47 – Watch yourself in this.
17:02 – What your current behavior says about your heart and faith.
18:36 – Be encouraged – you have not committed the unpardonable sin if you're troubled by it.
20:16 – Let the law of grace be your incentive.
21:09 – "Whatever you do" applies to every one of these situations.
24:46 – Encouraging or intimidating?
25:20 – You will be rewarded when you act toward others "as unto the Lord."
28:13 – Your inheritance has nothing to do with your irritating spouse.
30:40 – Emerson wraps up with a review and a challenge.
35:05 – A prayer that you can pray, too.
Love and Respect Resources
Need a gift for the newlyweds this summer? Looking for something special for your anniversary? Give a gift that will last a lifetime from the Love and Respect store.
Sign up as a VIP newsletter subscriber and be the first to know about new and exciting things happening at Love and Respect.
Would you be so kind as to leave us a review on iTunes and Stitcher? Your participation will help us spread the word!
Download the Love and Respect App—available now on iOS, Android, Windows, and Kindle—and never miss another great blog post or podcast episode!
Join over a million people who are a part of our social media community on Facebook, Twitter, Instagram and Google+.