Episode 051 – Why Do I Struggle to Forgive Myself?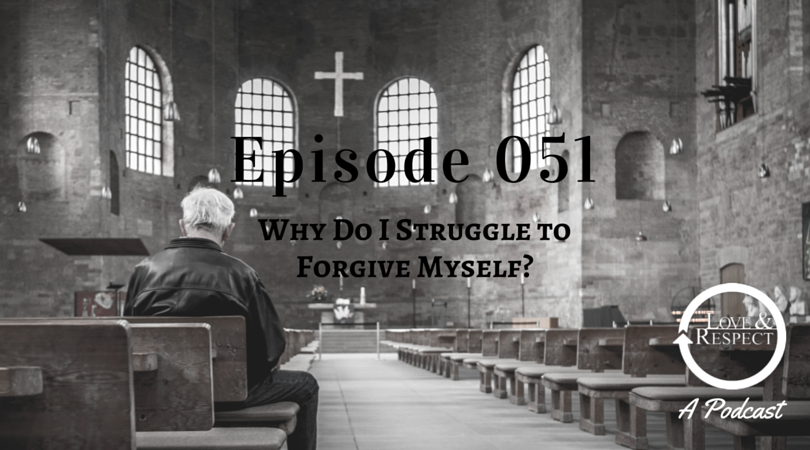 In this week's episode, Emerson and Jonathan discuss the topic of forgiveness. All of us do wrong. Who among us is perfect? When we fail to meet God's standard, some of us not only feel badly, but we hate ourselves, too. Emerson asks listeners to struggle with the wonders of being forgiven, instead of struggling to forgive oneself.
Timestamps
02:02 – We finished a 2-part series last week. Tune in here.
02:45 – The first three episodes of this podcast talk about the basics of the Love and Respect message.
03:55 – Self-loathing and asking the question, "Am I redeemable?"
05:52 – This is the struggle of every believer from time to time, and sometimes all the time.
09:04 – All of us will do wrong, so how do we deal with it?
11:20 – Performance-based responses to our own wrongdoing.
13:43 – Your judgment against yourself is actually a sign of your integrity.
15:25 – As you walk in the light.
17:54 – "All" doesn't mean "some."
18:41 – This truth causes incredible perplexity among believers.
21:39 – Discipline vs. punishment.
23:01 – "…and their sins and their lawless deeds I will remember no more."
24:11 – Emerson unpacks what it means to "remember no more."
27:10 – The other side of God's discipline.
29:27 – Your faith and your feelings—who do you think you are?
31:18 – Beware of spiritual arrogance.  
34:22 – When you're forgiven, this is your new reality.
Love and Respect Resources
We recently added three new Gift Packs to the Love and Respect store. Check them out and consider purchasing one as a gift during this wedding season.
Leave us a review on iTunes and Stitcher and help us spread the message of Love and Respect to even more people around the world!
Download the Love and Respect App—available now on iOS, Android, Windows, and Kindle—and never miss another great blog post or podcast episode!
Sign up as a VIP newsletter subscriber and be the first to know about new and exciting things happening at Love and Respect.
Join over a million people who are a part of our social media community on Facebook, Twitter, Instagram and Google+.
Have a question for the show? Email us at podcast@loveandrespect.com.