Episode 052 – When Parenting: The Punishment Must Fit The Crime – Part 1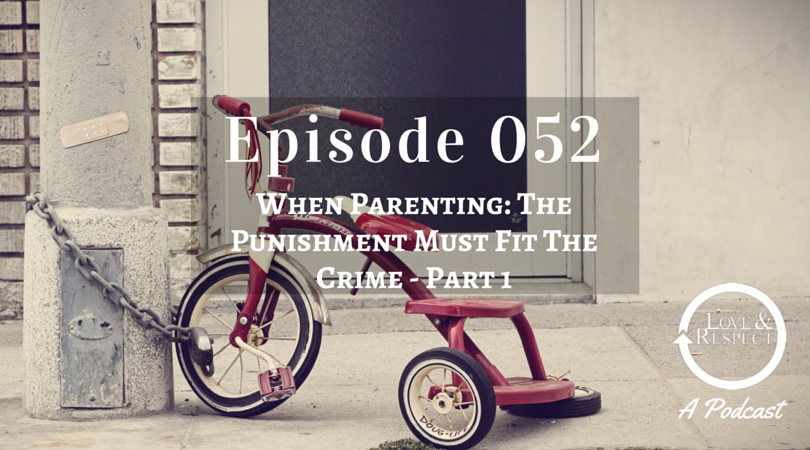 When disciplining our kids, we can learn something from the court system. The punishment must fit the crime. In Part 1 of a two-part series, Emerson and Jonathan look at how society handles punishment and how parents can use similar ideas in approaching and dealing with their children–not to punish or be punitive in parenting, but to correct in love.
Timestamps
02:06 – How did this topic pop into Emerson's head?
04:40 – Infraction, misdemeanor, and felony.
06:04 – Motivation and intent of the crime.
09:16 – Social rules vs. moral law.
12:23 – The four quadrants of evaluating your child's behavior.
13:26 – Your child is unintentionally annoying because he is socially thoughtless.
15:46 – The importance of remembering goodwill.
19:52 – Your child is intentionally annoying because she is being rude.
23:10 – Discipline without resentment.
25:20 – Are you overreacting?
26:22 – Are you underreacting?
27:26 – How can you know if your punishments fit the crime?
28:26 – Determining the intention of your child.
29:01 – Emerson and Jonathan look forward to Part 2.
Love and Respect Resources
The new and improved Love and Respect website is almost here! Sign up as a VIP newsletter subscriber and be the first to know when it's live.
Download the Love and Respect App—available now on iOS, Android, Windows, and Kindle—and never miss another great blog post or podcast episode!
Leave us a review on iTunes and Stitcher and help us spread the message of Love and Respect around the world!
Join our social media community of over a million people on Facebook, Twitter, Instagram and Google+.
Have a question for the show? Email us at podcast@loveandrespect.com.